Ecotourism Accommodations
There are several well-run accommodations for ecotourists in the Tirthan Valley. Although there is not yet an official system of standards for ecolodges in the GHNP Ecozone the accommodations listed on this page meet at least some, if not all of the following qualities:
::
Use Local architecture and local building materials
::
Located in/around natural areas
::
Use local products and minimise the use of chemicals in daily operations
::
Employ local people and support their community
::
Minimise and manage waste
::
Minimise the use of energy
::
Minimise the impacts on nearby villages
::
Support conservation of nature
These accommodations and home-stays are perfect for those looking for a complete getaway from urban chaos. Do nothing here, if you like, other than laze, read and stare at the scenery. Nature lovers can angle for trout or take long walks in the Great Himalayan National Park.
Camp Sunshine – Sahara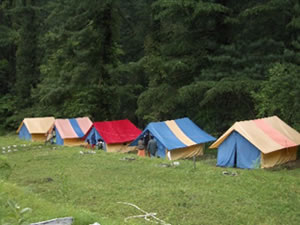 The First Ecotourism Camp of Himachal Pradesh is managed fully by trained and professional people belonging to the Ecozone of the GHNP. The camp has hosted a conference for over 110 delegates belonging to WMPA. It has full electricity backup serving food which is organically grown in the villages nearby. It is employing about 20 young men and women from the eco-zone after due training, giving indirect employment to about 200 people through various activities around the park. Serving as a base for soft adventure activities around the park like one day treks, multi-day treks, nature awareness camps, rock climbing, fishing, medicinal herbal treks etc. Other activities may include Woofing, (Working at Other peoples Farms), Organic gardening treks, volunteer guests etc. It's having a handicraft center which will have small units for various NTFP's and local handicrafts. It is also having a street theatre team that entertains the guests around the campfire making them aware of the biodiversity and problems around. Even the campfire wood is from a dedicated plantation minimizing the impact on environment.
Location:
Deori Village
Accommodation Available
Twin sharing with beds:
12 Tents
School Groups:
Upto 50 people
Raju Bharti Hoemstay :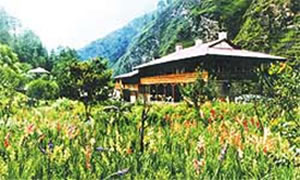 Sunshine Adventures welcomes you to Raju's Cottage at Goshaini. This is one of the best Home stay's in the world. This is where you want to be if you want to sit around and read, go for occasional walks, and be fed wonderful food all day. For the more vigorous-minded, a 16 km long walk along the Tirthan River brings you to the Great Himalayan National Park; from there the endless possibilities of moderate to difficult hiking. Raju and Lata run a guest house that is clean, comfortable, and relatively inexpensive (room and board: Rs 1,250 a day per head including meals). Fresh trout every day if you want it. It's popular, so book ahead. Connected to civilization by a pulley bridge, this is the perfect spot for crisp air, fresh food and long walks. The Great Himalayan National Park is a short ride away.
We can pick you up at the airport and drive you to Goshaini. Driving is most convenient, although local transport also exists. The price is an All inclusive ( Food and Bed) ..........there is nothing to spend money on!
Location :
Goshaini
Number of Rooms :
4 ( persons accommodated upto 15)
Himalayan Trout House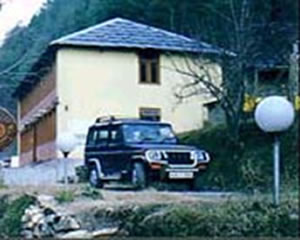 Run on the lines of a modern clubhouse replete with activities and facilities, The Himalayan Trout House is a social centre in the Tirthan valley providing a friendly place for locals and visiting fishermen, trekkers, campers and other holiday makers to meet each other, exchange stories, share bonfires and eat outs, read, listen to music, play games, laze in hammocks etc. The Trout House offers different options of accommodation to suit all pockets. There are three pine panelled deluxe rooms with attached toilets and baths in the main house, 2 large furnished 14' by 14' Swiss Cottage tents for families and other teams, furnished 10by 10's and some smaller A's with sleeping bags for some more.
Location :
Nagini
Number of Rooms :
4 ( persons accommodated upto 15)
Sai Ropa Tourist Center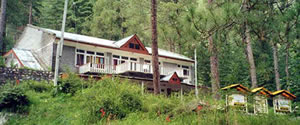 Sai Ropa located five kms away from Banjar and 5 kms before the Goshaini entrance to the Park. Nestled in the pine forest, the Tourist Center spreads over a 3 hectares (six acres) area. It is also the headquarters of Tirthan Wildlife Range Office from where entrance tickets to the Park can be obtained. The Center has a Forest Rest House, a building housing two dormitories (20 beds in all), a photo exhibition, a conference/ training room with projection facilities, and a hall with photo exhibition about the Park. Outside, there is a 520 m long "Biodiversity Trail" which has trees and medicinal plant species transplanted from the Park; a pergola (gazebo) with Tirthan river view; a demonstration site for vermi-composting; a butterfly enclosure, and a solar energy site.
Location :
Sai Ropa
Number of Rooms :
3 Dormitories : 4 ( with 10 beds each)
Idiscoveri Camp
These are camping tents usually operational between April to October. These learning spaces in the Himalayas is usually meant for the kids who come with I dicoveri on various programs like Eureka etc. However if empty the tents may be available.
Location :
Sai Ropa
Number of tents with beds :
22
Helmut's and Cinderella's Campsite
This ideal campsite is located by the white waters of the Tirthan River. Spending time with this unique couple gives one a in-depth insight into the dynamics of socio-cultural scene in the Tirthan Valley. Helmut Schon is an environmentalist who has started various small projects in the valley like "Hammock Building Unit " , Organic Farm, Jam and other Food processing and advises SAHARA as a board member. Cindrella is from Mumbai and is an excellent cook. She home teaches there son "Audas." One can spend the day in a locally made hammock which your host would erected on the edge of the beautiful waters of the Tirthan River - a truly relaxing place in a country village! Their cabin can provide facilities for the campers like telephone, internet etc. The accommodation is provided in dome tents by the side of the Tirthan river in which one can truly experience living in the bush kid of lifestyle.
Himalayan Villadom : This amazing resort has been developed by local entrepreneurs . With 6 amazing cottages by the Tirthan river and a building consisting of 6 rooms and a dormitory, the Himalayan Villadom is an ideal get away retreat providing you clean and comfortable accommodation in the middle of fruit orchards and local village life. Location is opposite the Idicoveri camp.
Khem Bharti's Guest House:
This guest house with 3 attached bathroom and 3 common bathroom rooms is most conveniently located in the center of the valley with parking facilities. It is an old house which has been converted into a guest house with deodar paneling and nice comfortable rooms. The kitchen serves a whole range of local food with the Trout Fish as a specialty.
Local Home Stays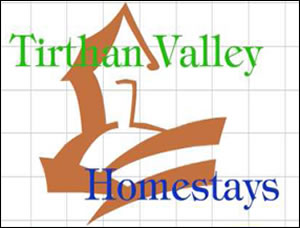 The home stays in the Tirthan are a unique highlight of the visits to the valley. The ecotourists are privileged to have the personal attention of the hosts throughout the stay in both of this distinctive and delightful style of accommodation. As of now we have over 10 different choices of home stays with a total capacity of 40 rooms an average 4 rooms. The picture down below gives you a classical idea about the local houses and the scenery down below.